By Kay Whatley, Editor
This list covers events from the North Carolina counties of Edgecombe, Franklin, Nash, Johnston, Wake, Wayne, Wilson, and beyond.
In addition to the events below, the North Carolina State Fairgrounds is hosting multiple December events. Their list may be found online here.
A variety of coastal events may be found via What's On Wilmington's calendar.
Friday, December 9, 2016
Christmas in Spring Hope (December 9, 2016 @ 5:30-8pm)
This holiday event is organized by the Spring Hope Chamber of Commerce, located at 118 W Railroad Street, Spring Hope NC. Come downtown for free carriage rides, music, beautiful trees decorated by area churches, over 100 nativities on display, and a visit by that jolly old elf from the North Pole! Updates and event discussion are online here. The Spring Hope Chamber of Commerce is online at www.facebook.com/SpringHopeChamberOfCommerce. The Town of Spring Hope is online at www.springhope.net.
19th Century Christmas Open House (December 9, 2016 @ 5-7pm)
All are invited to The Historic Person Place, 605 North Main Street, Louisburg NC, for this holiday event hosted by Louisburg Historic District Neighborhood Association and Person Place Preservation Society. The Victorian Carolers will be there 5-6pm, and enjoy the 19th Century Parlor Tableau 6-7pm.
Santa Claus in Zebulon (December 9, 2016 @ 5:30-7:30pm)
Santa Claus is coming to Town Hall! Come and see him in the lobby of the Town of Zebulon Municipal Complex, 1003 N Arendell Avenue, Zebulon, NC . Free pictures too. The town is online here.
Holiday With the Stars (December 9, 2016 @ 7-9pm)
This Teen Program is being held on the lawn at Braswell Memorial Library, 727 N Grace Street, Rocky Mount NC. The library is online here. NOTE: November 1-February 10, "Discover Space" coloring sheets are available at the Youth Services and IS desks. Pick one up and color today!
Family Movie Night (December 9, 2016 @ 7pm)
The Zebulon Parks & Recreation Department has its free movie and popcorn, for all ages, this Friday. Movies are shown at the Zebulon Community Center, 301 S Arendell Avenue, Zebulon NC. A parent/guardian must be present, no drop-offs. Call 919.823.0432 for movie title.
"A Christmas Carol" (December 9 & 10, 2016 @ 7:30pm)
Come and see this production of the famous tale of Scrooge! Tickets are $13 general admission, $11 Seniors and children 12 and under. Held at the Nash Arts Center, 100 E Washington Street, Nashville NC. Ticket sales are online (small processing fee) at www.brownpapertickets.com/event/2588519.  Additional Sunday performances December 4 & 11 at 2:30pm.
A Christmas Carol (December 9 & 10, 2016 @ 7:30  &  December 11, 2016 @ 3pm)
Enjoy this ninth-annual production at the Center State Theatre (in Paramount Theatre), 139 S Center Street, Goldsboro NC. Since 2008, Center Stage Theatre's A Christmas Carol has become Downtown Goldsboro tradition. Tickets $15-$18, available here, along with information on more holiday events at the Paramount.
Tar River Christmas (December 8-11, 2016)
Come to Tarboro NC for a Tar River Christmas. Step back in time and experience a small town Christmas! A beautiful historic district filled with pristine homes, a quaint downtown filled with shops and eateries, and a town full of big hearted people. See their Facebook events for details on close to three dozen happenings, broken down by date.
Snow in Bear Plaza / Sledding (December 9-11, 2016)
Multiple events on Craven Street and downtown New Bern NC.  Stop by Santa House or check out the SNOW in Bear Plaza. Plus, on December 11 take part in shopping, a food drive, and enjoy snow on Craven Street — kids can sled in downtown and try sledding ramps. For more snow dates and details, visit www.bearymerrychristmas.com.
Saturday, December 10, 2016
ABC Craft and Learn (December 10, 2016 @ 10:30-11:30am)
Children ages 3-5 and their caregivers are invited to participate in an interactive program with an alphabet craft to nurture pre-reading skills through writing and play and to give opportunity to develop fine motor skills children require to start school. No registration required. Held at the Zebulon Community Library, 1000 Dogwood Drive, Zebulon NC. The library is online here.
Note: No events are listed for December 10 at the Wendell Community Library, 207 S Hollybrook Road, Wendell NC. To see future Wendell offerings, check out that library online here.
Christmas ~N~ Middlesex Social and Parade (December 10, 2016 @ 11am-4pm)
The parade route starts at Mortex, turns at W Hanes Street, and ends at Middlesex Elementary in Middlesex NC. The fire department will be selling hot dogs (fundraiser) before the parade and hosting Santa after the parade. See the event updates here. The Town of Middlesex NC is online at www.townofmiddlesexnc.com.
Chapel Hill-Carrboro Holiday Parade (December 10, 2016 @ 10am)
The 2016 Chapel Hill-Carrboro NC parade includes participants from all around the area. More information is available at www.chapelhillholidayparade.com, including vendor registration.
Benefit Gospel Concert for Princeville NC (December 10, 2016 @ 5pm)
The Wake Up Benefit Gospel Concert for Princeville NC (Edgecombe County), is being held at New Bethel Christian Church, 4307 Poole Road, Raleigh NC. The concert includes a variety of performers. Supplies for residents displaced by flooding may be donated during this concert.
Afternoon Tea (December 10, 2016 @ 3-5pm)
The Franklin County Arts Council (FCAC) is hosting their monthly Afternoon Tea, which is free, family-friendly, and open to the public. This month's guest is Photographer Tammy Winkel. Tammy Winkel's photography show will premier during this afternoon tea. Tammy will give a short talk and answer questions on her work as a photographer specializing in pet and animal portraits. The event will be held in the Franklin County Arts Council gallery, located at 22 S Main Street, Franklinton NC. For more information, visit the arts council's website at fcacarts.org.
Greenville Christmas Parade (December 10, 2016 @ 5-6:30pm)
This annual parade gives thousands of citizens their first celebration of the Christmas holidays. The parade route runs through uptown Greenville NC.
Winterville Christmas Parade (December 10, 2016 @ 2-3:30pm)
Come and enjoy this parade and bring the kids to see Santa as the parade makes its way through downtown Winterville NC. See more about the Winterville Christmas Parade here.
Farmville Christmas Parade (December 10, 2016 @ 10:30-11:30am)
Bring family and friends to enjoy this annual parade down Main Street, Farmville NC.
Bethel Christmas Parade (December 10, 2016 @ 11am-12:30pm)
Come and enjoy the Bethel NC annual Christmas Parade down Main Street. See more at www.hometownbethel.com/bethel_christmas_parade.
"The Night That Christ Was Born" Christmas Concert (December 10, 2016 @ 6pm)
This will be a Voices With Purpose Christmas concert at Bethel AME, 7340 Pleasant Grove Church Road, in Spring Hope NC. All are asked to bring a toy so we may be able to give to back to Toys For Tots.
Breakfast with Mary and Joseph (December 10, 2016 @ 9:30-11am)
Enjoy this free event at Wendell Baptist Church, 3651 Wendell Blvd, Wendell NC. Come for breakfast and a visit from Mary and Joseph. There will also be "Advent" crafts and story time as part of this special morning.
Author Visit (December 10, 2016 @ 2-4pm)
Author and visiting Assistant Professor of English at North Carolina Wesleyan College, Michael K. Brantley, presents his book Memory Cards in the Computer Lab at in this adult program at Braswell Memorial Library, 727 N Grace Street, Rocky Mount NC. For more information, contact Kesha Joyner at 252.442.1951 x.253.
Santa's Workshop December 10 & 17, 2016 @ 10am-2pm)
Come for fun at Dean's Farm Market, Highway 42 in Wilson NC. The farm is offering a mix of goodies, Christmas, agriculture, and more. (see image). Call 252.237.0967 with questions.
Sunday, December 11, 2016
The Mill Chill 4 Miler After Party (December 11, 2016 @ 2-5pm)
This four-mile race is sold out, but join the after-party with live music by Matty Begs, great food trucks (Cock-a-Doodle Moo and The Wandering Moose), and NC craft beer  — or, non-running guests can still support the event monetarily and get a race t-shirt. The after-party takes place at the Rocky Mount Mills, 1151 Falls Road, Rocky Mount NC. See details at www.millchill.com. (Ed. Note: Thank you to Koi Pond Brewing Company for bringing this event to our attention.)
Winter Wonderland / A Charlie Brown Christmas (December 11, 2016 @ 2-3:30pm)
Daytime events and a special performance are being held at the Imperial Centre for the Arts and Sciences, 270 Gay Street, Rocky Mount NC. Admission is free, though activities have a nominal fee. Winter Wonderland is 1-5pm, offering a day of fun for the whole family including music, children's activities, carriage rides through downtown, and a visit from Santa. There will even be snow in the main lobby every hour. Then, watch the production, "A Charlie Brown Christmas" scheduled for 2-3:30pm. Tickets are required. (Additional dates are available for this production.) Call 252.972.1266 or visit imperialcentre.org/events/winter-wonderland to find out more.
Coming Soon
NCIHA Meeting (December 12, 2016)
The North Carolina Industrial Hemp Association, a member organization working for statewide hemp growth and production, is holdings its first annual Voting Member and Board Meeting. The meeting is being hosted by the NC Cooperative Extension Service, College of Agriculture and Life Sciences, at the Guilford County Center, located at 3309 Burlington Road, in Greensboro NC. Information on joining this group is online at ncindhemp.org.
Santa Claus at Braswell (December 13, 2016 @ 6pm)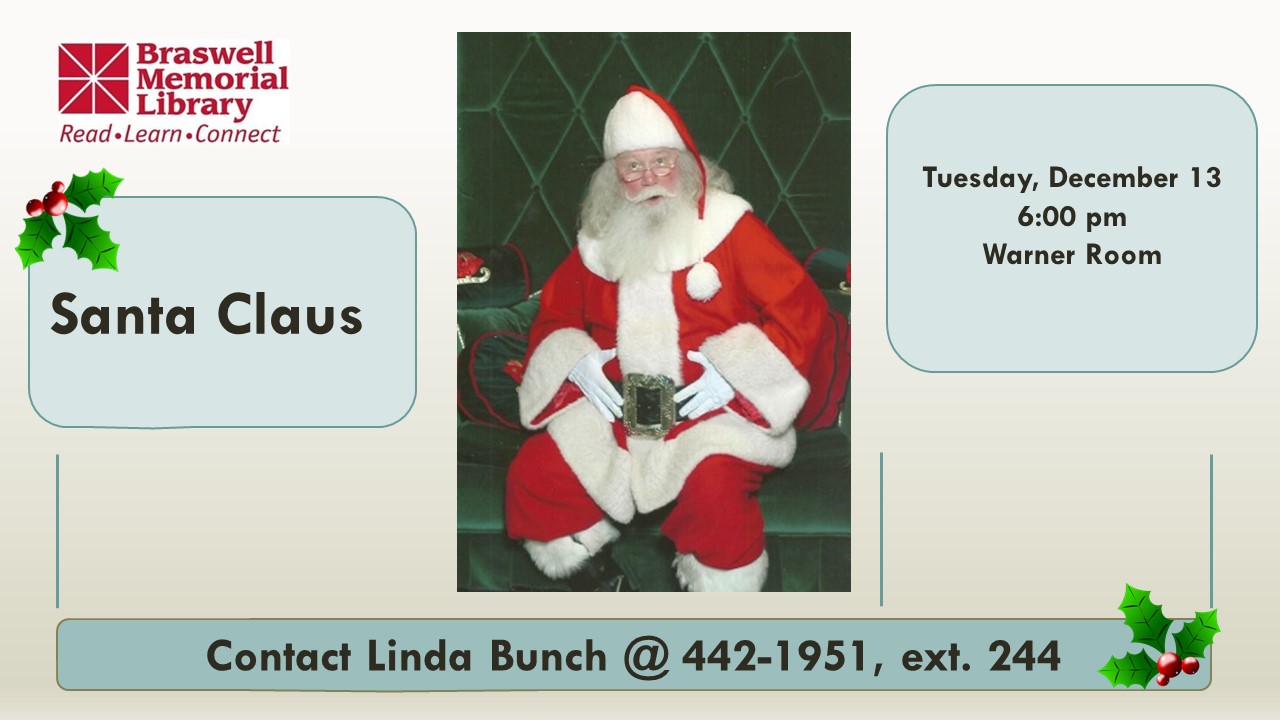 This event is geared toward children and teens, ages 0 through 18. Come and see Santa in the Warner Room at Braswell Memorial Library, 727 N Grace Street, Rocky Mount NC. with questions, contact Linda Bunch at 252.442.1951 x.235 or via email.
Auditions for Seussical The Musical (December 13, 14 & 15, 2016 @  6:30-8:30pm)
Everyone is invited to audition. Casting is searching for "a large, diverse ensemble of adults and children." Auditions will be at The Imperial Centre for the Arts & Sciences is located at 270 Gay Street, Rocky Mount NC.
If you have any questions, contact the Theater Manager of the Imperial Centre via email, or the show's Director via email. The show dates will be March 3, 4, 5, 10, 11, and 12, 2017.
Christmas with the Embers (December 15, 2016 @ 7:30-10pm)
The Embers featuring Craig Woolard bring their Christmas back for this special holiday concert. Organized by the Arts Council of Wilson, the performance is at the Edna Boykin Cultural Center, 108 Nash Street NE, Wilson NC. Tickets are available at www.wilsonarts.com for $20 to $25, by stopping by the Arts Council of Wilson, or calling 252.291.4329.
Clayton Piano Festival "Holiday Gala Concert" (December 15, 2016 @ 7pm)
Enjoy this first-ever Holiday Gala Concert at The Historic Wagner House, 121 E. Main Street, Clayton NC. General admission tickets are $15 for adults and $5 for 18 and under. There is a small service fee when purchasing online tickets. Tickets are on sale at www.claytonpianofestival.org.
Discover Space — "Space Exploration" (December 15, 2016 @ 5-7pm)
Russell J. DeYoung, PhD Senior Scientist at NASA Langley Research Center, discusses space exploration in the Warner Room at in this adult program at Braswell Memorial Library, 727 N Grace Street, Rocky Mount NC. For more information, contact Kesha Joyner at 252.442.1951 x.253.
Old Fashioned Christmas (December 15-17, 2016)
Get ready for three days of shopping and getting into the holiday spirit with the second annual Old Fashioned Christmas event in Taylorsville NC (Alexander County). Old Fashioned Christmas offers ice skating, Santa, holiday shopping and much more. (Article)
Holiday Train Expo (December 16-18, 2016)
Head to Independence Mall, 3500 Oleander Drive, in Wilmington NC, for the Cape Fear Model Railroad Society's annual Holiday Train Expo. The expo features trains of all types in a variety of villages, parks, and landscapes, plus photo ops with the conductor of the Polar Express, and a chance to watch models being built. Admission is $4-$5, with kids under 3 free. Hours are 6-9pm Friday, and 1-5pm Saturday and Sunday. Details and updates may be found on this Facebook page or call 910.231.8567 with questions.
Christmas at Home Show (December 17, 2016 @ 10am-2pm)
Franklin County Arts Council will hold its Fourth Annual Christmas at Home Art Show and Sale. Shop for gifts for sale by local artists and join the group for free refreshments. This year's location is the historic home of Elic Senter and Ed Cottle on 12 Vine Street, Franklinton NC. Participating artists include Margaret Hilpert, Everett Mayo, Pamela Andrejev, Louise Asaraf, Rose Cushing, John Pelosi, and Marti King. This has become a popular event, offering shoppers an opportunity to purchase unique Christmas gifts. The festive event is free to the public, including holiday refreshments. Several items donated by the artists will be raffled throughout the day.
There may be spaces available for artists; email for information if interested in being a part of this event. Visit the Franklin County Arts Council website here.
Christmas Concert at First Presbyterian Church in Rocky Mount (December 18, 2016 @ 4pm)
The Rocky Mount Chamber Singers will participate in this free concert, according to its Director, James S. Smith in a recent Facebook post.
The first half of the concert will feature RMCS in a variety of seasonal music, both sacred and secular, including arrangements of familiar Christmas selections like "Angels We Have Heard on High" and "Deck the Halls." They will be joined in the second half by the choir of First Presbyterian and other singers from the Rocky Mount community.

This chorus of approximately 60 voices will sing two arrangements of traditional carols, followed by four choruses from Handel's "Messiah." Audience members will be invited to join the chorus in singing the much-beloved Hallelujah chorus from "Messiah." A chamber orchestra will accompany the second half of the program.
A nursery will be provided. A reception for audience members and musicians will follow the concert. The location is First Presbyterian Church, 153 N Church Street, Rocky Mount NC.
It's a Wonderful Life Movie Screening (December 20, 2016 @ 7pm & 10pm)
Bring the family to this special showing as part of the "Paramount Movie Nights" series. This holiday favorite is enjoyable for all ages, whether it is the 100th time or the first time seeing it on the big screen! General Admission tickets are $5 per person, with children 12-and-under free with an adult. Visit this page to purchase tickets. The location is the City of Goldsboro-Paramount Theatre, 139 S Center Street, Goldsboro NC. Call the theatre at 919.583.8432.
Photography Contest, Exhibit, and Celebration (December 3-28, 2016)
See details on these two images regarding this photo contest at Braswell Memorial Library, Rocky Mount NC. Entry deadline was December 3, 2016, and has passed, but the display will be available in the art gallery.
Coming Next Year (2017)
2017 Economic Forum & Forecast Breakfast (January 11, 2017 @ 7:30-9:30am)
This special business-oriented meeting is being held at the Knightdale Town Hall, located at 950 Steeple Square Court, Knightdale NC. The agenda includes a panel of local leaders from education, government, and industry to address questions and leading initiatives critical to our state and local communities. Join us as leaders collaborate and explain why now more than ever it is imperative to understand the 2017 economic outlook and trends for businesses and our community-at-large. See here for event details or to register. Registration is $25 for chamber members and $30 for the general public. (Article)
29th Annual Martin Luther King, Jr. Holiday Celebration (January 16, 2017 @ 12pm)
In honor of Martin Luther King, Jr.'s lifelong dedication to justice, equality, and service for the greater good, the City of Goldsboro will once again join with Wayne County to host this event. The MLK Luncheon will be held at the Goldsboro-Raleigh District Assembly, located on 211 West Hooks River Road, Goldsboro NC. Tickets are $15 and may be picked up at the Community Relations Office, 214 N Center Street or from one of the Martin Luther King, Jr. Committee members. Deadline to purchase tickets is Monday, January 9, 2017.
The theme for the MLK Celebration will be "There is but One Race, and that is The Human Race". This message was articulated very clearly by Dr. Martin Luther King, Jr., a Visionary, who saw things from a different perspective. Over fifty-two years later, we now see those things and we will strive to incorporate them into our everyday lives in the knowledge of "Change Begins with Self". For more information, contact the Community Relations Office at 919.580.4359 or email C. Johnson or S. Simpson.